Below Grit Fell (2022)
Exhibited at
The Storey
, Lancaster, September/October 2022.
Preface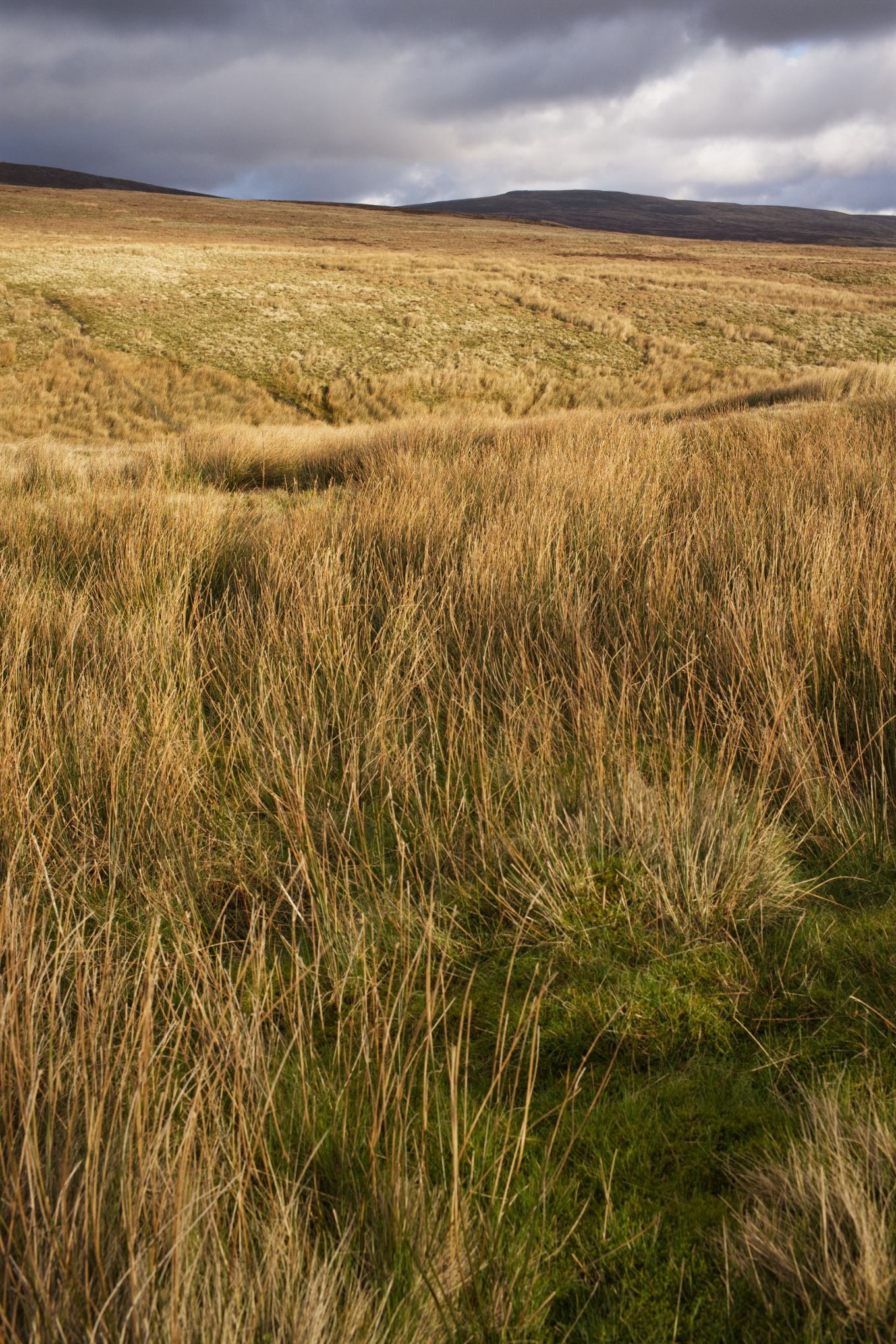 All photographs in Below Grit Fell were made in rural Lancashire on a corridor east of Lancaster and west of a lonely hill called Grit Fell. I chose to photograph here due to proximity and out of curiosity. None of the locations are more than a ten minute drive from my home, but it was a world I knew virtually nothing about. I was also curious to explore how I, as foreigner and outsider, would relate to what I experience.
A key part of this project was the recognition of relationships. The photographs are about the multifaceted relationships between people who live and work below Grit Fell and the places that provide the contexts for their lives. By getting to know these people and places while I worked, I was also able to establish and develop relationships with them. I am indebted to those who have let me photograph them and the places they inhabit. Through their generosity, they have helped me surface and articulate some of my own preoccupations and thought processes. In this sense, the work may say more about me than it says about them.
The photographs and reflections collected here stem from personal experience. Yet, I hope they are relevant to a wider audience by suggesting the possibility of similar encounters, albeit in different contexts. As sociologist Zygmunt Bauman points out, the experience of local and global are increasingly blurred.1 One consequence is that it is not unlikely for someone like me, who spent their youth on the southern tip of Africa, to end up in a muddy British field near a lonely hill called Grit Fell.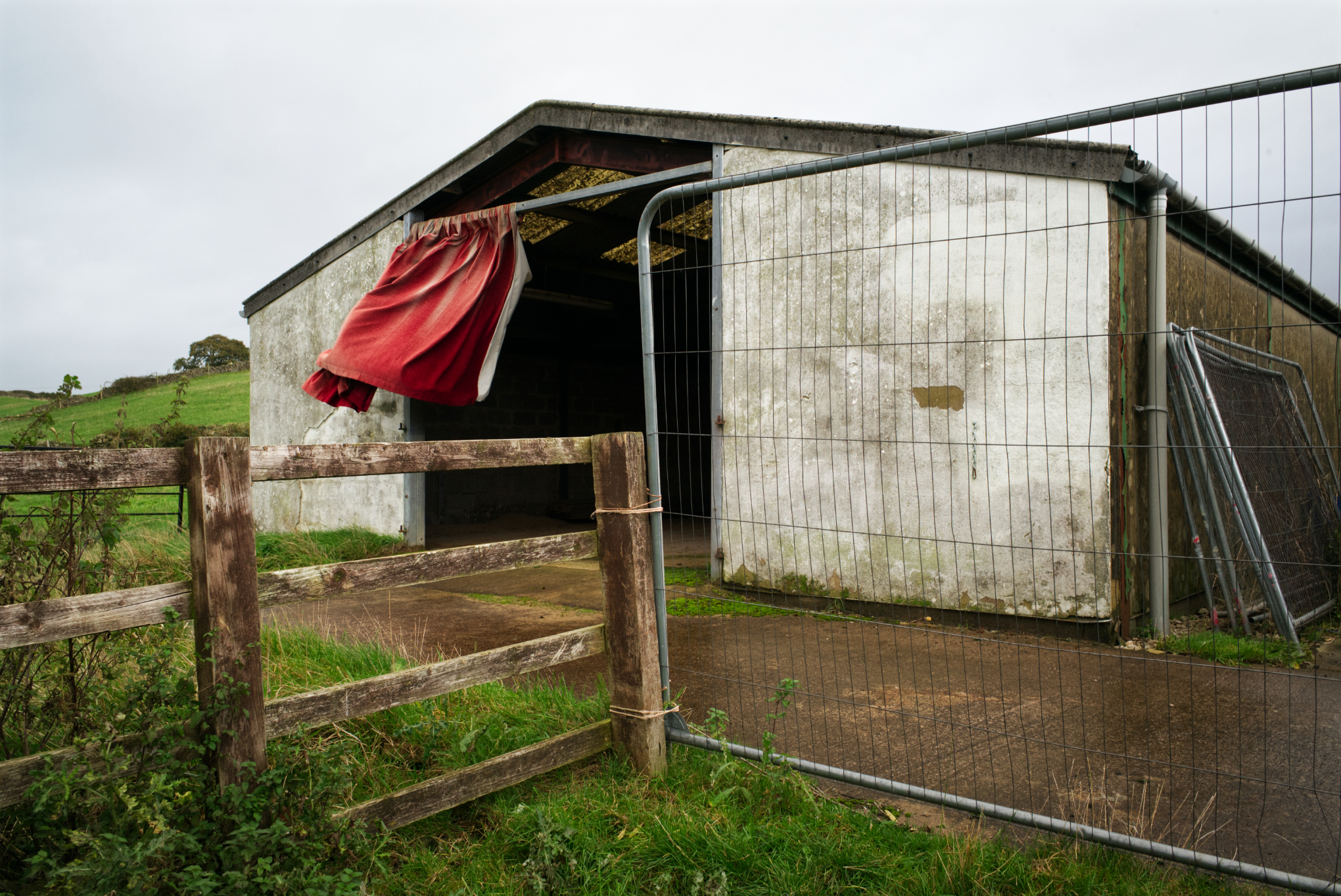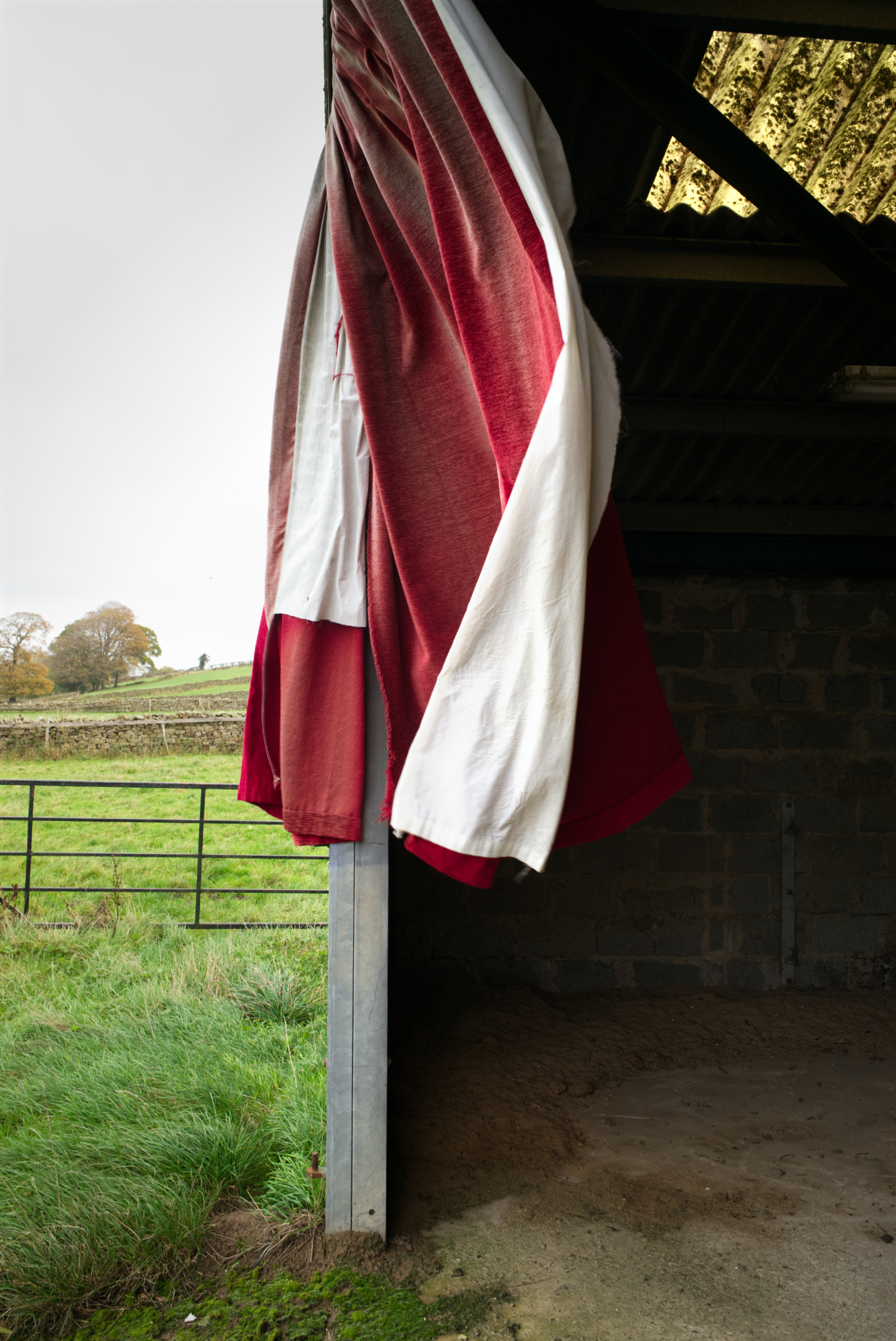 Time can be perceived as linear, like an arrow, where the past consists of successive events leading to the present. But time can also be experienced as circular. Geographer Yi-Fu Tuan writes that repeated behaviour, cyclical in nature, is what lets a location "acquire a density of meaning and stability" so that it becomes a place.2
When I go out my front door, turn right, and walk past the bus shelter to the bend in the road, I can see an old farm below. What always intrigued me were the crimson curtains in the doorway of one of the outbuildings. Even from a distance, I could see them moving in the wind. I could not imagine they provided much protection against the elements, so why were they hung there?
One day, when I paused to look at the curtains again, I noticed the farm had been abandoned. A 'for sale' sign in a neighbouring field suggested why and I decided to photograph the curtains while I still could. As I left, I noticed a planning application stuck to a bus stop outside the farm. My suspicion was confirmed: soon the farm would give way to 167 new houses. A few weeks later, as I suspected, the curtains were gone.
It left me with questions I would never answer. What were the cycles of life on that farm, and how did they inform what it meant to its inhabitants? What did they think of the urban sprawl about to swallow the place they had called home? And how and why did the curtains come to adorn that doorway?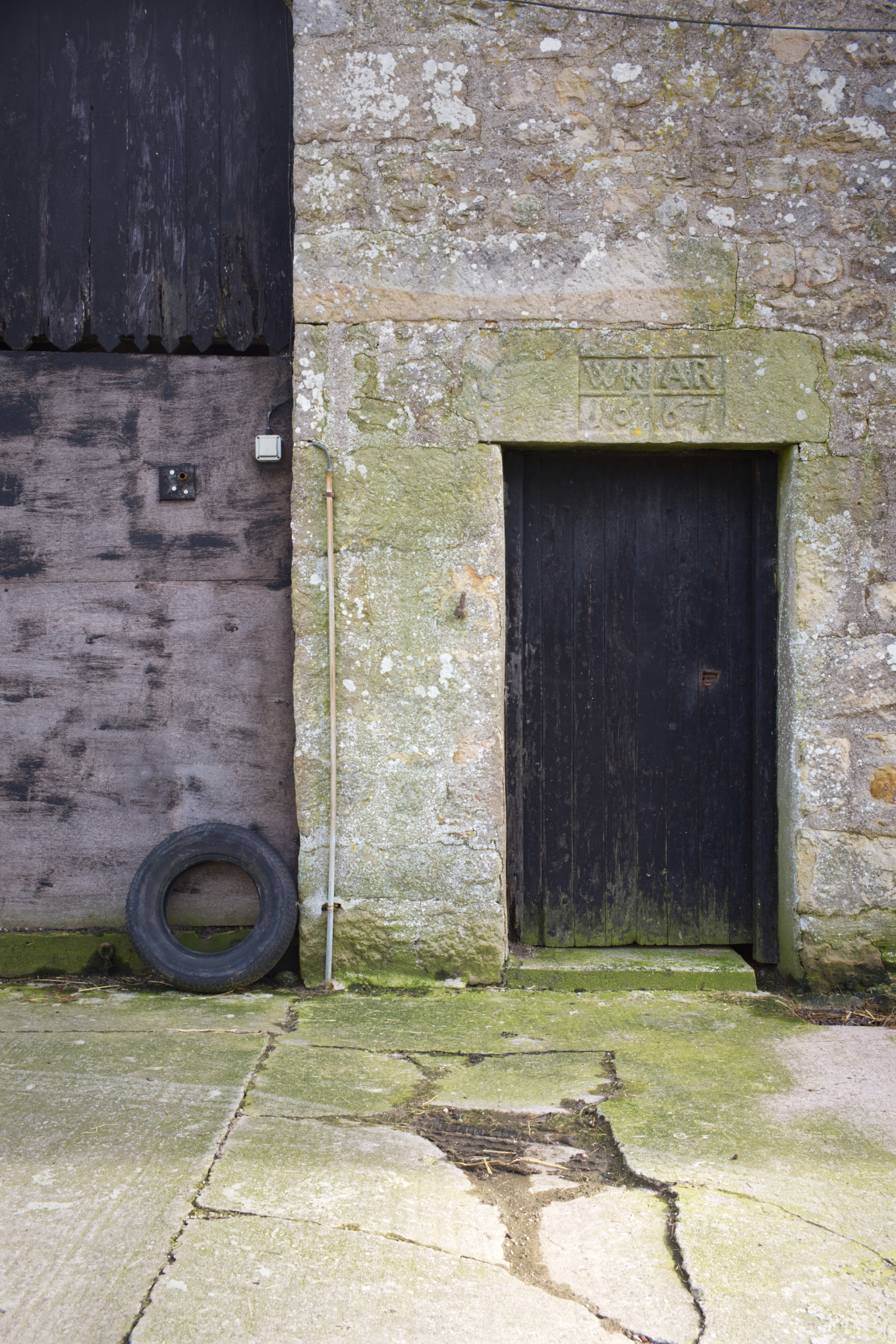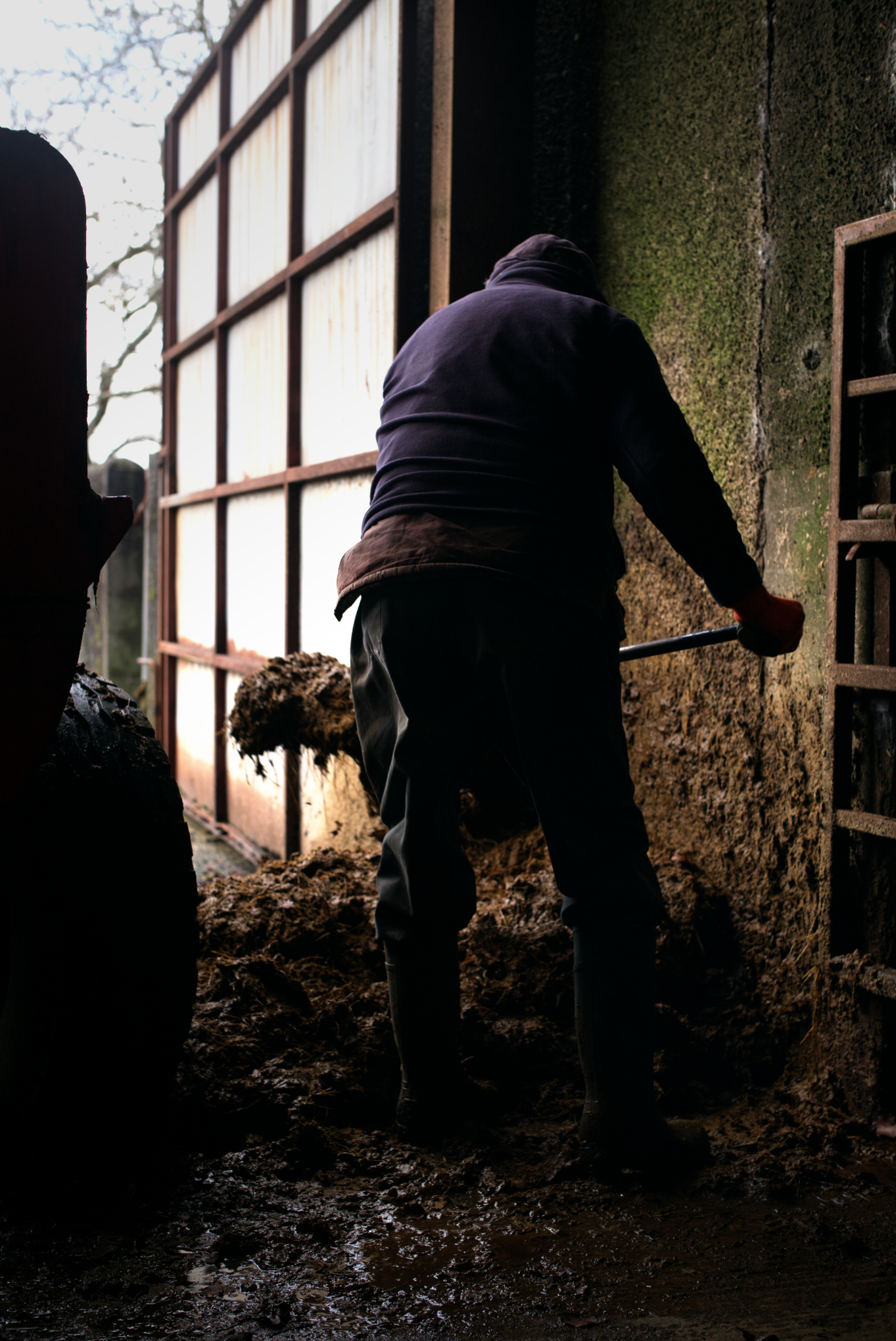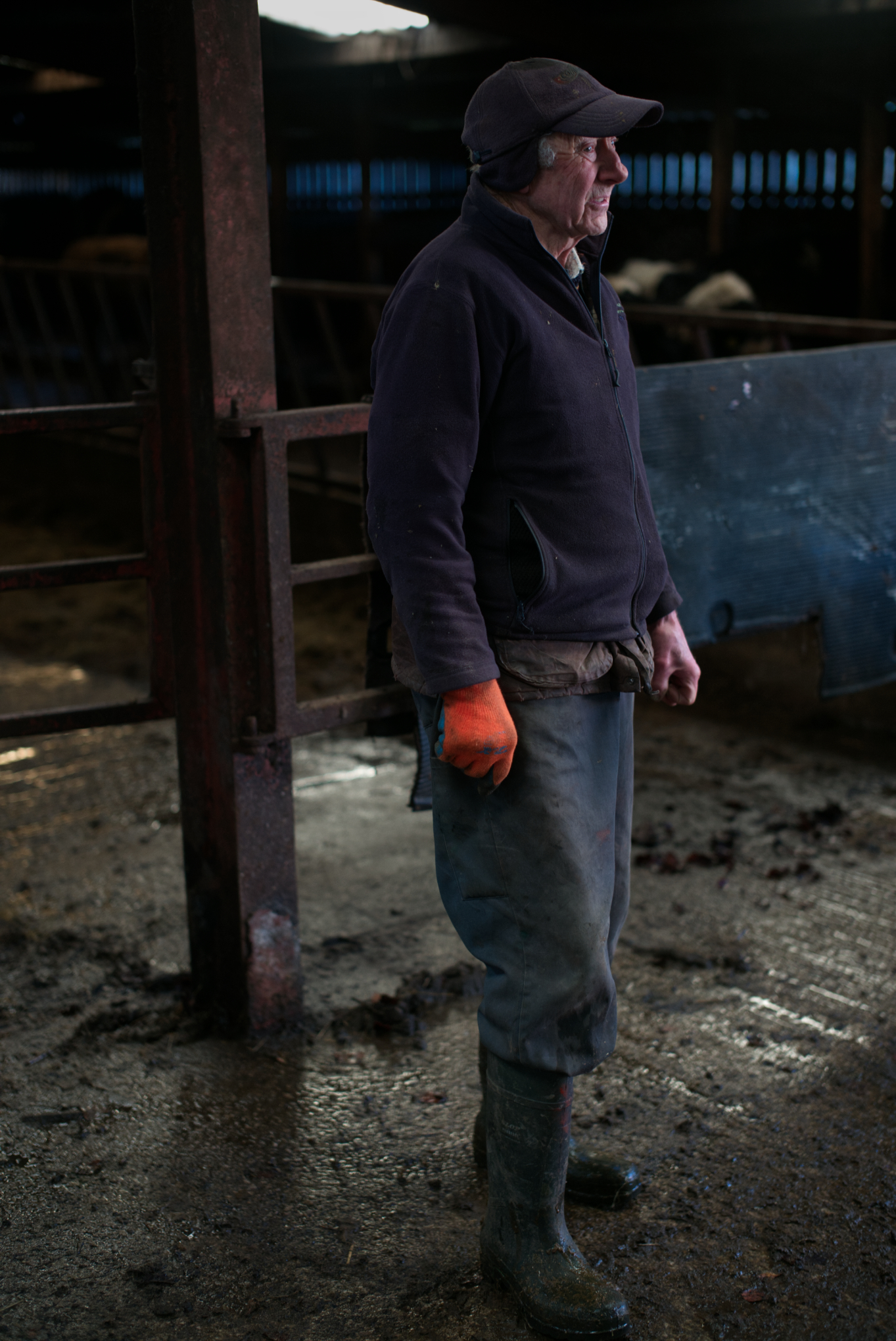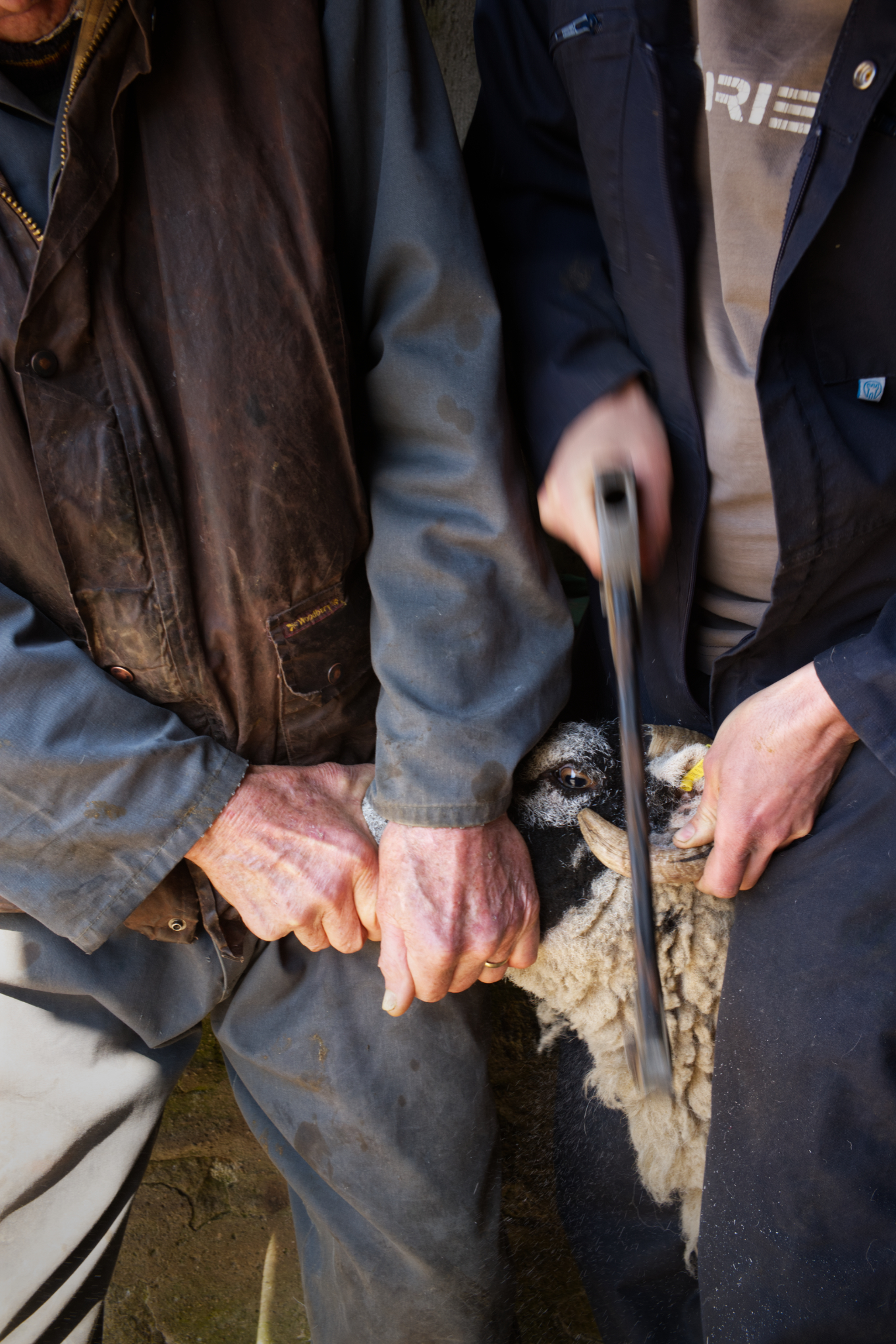 Initially, I did not know anyone in the area, but a friend had mentioned growing up on a hill farm below Grit Fell. He was willing to put in a word for me with his father, Dick Gorst, and a few days later I phoned Dick to ask if I could visit. "Oh, aye!" he said, "have you time on Friday?" When I arrived, the first thing I noticed was the old stone barn, which dominates the farmyard. On the date stone above the door, I could just make out '1667'. I remembered the Dutch had only reached the Cape of Good Hope fifteen years before and it seemed like a very long time had since passed.
Dick and his son John breed Bluefaced Leicester and Swaledale sheep and their purebreds are at the top of a three-tier system. The Leicester rams and Swaledale ewes they sell are crossed to produce Northern Mules, hardy and healthy sheep suited to the harsh northern upland climate. Mule ewes are then crossed with lowland rams like Texel to produce lambs for the meat market.
Dick also provides winter housing for cattle to other farmers. On a December afternoon, I watched him clear the cowshed and we drifted into the topic of change. He used to think that his mother, who had lived past a hundred, must have witnessed an incredible amount of change. Now he thinks that he, who is in his seventies, may have seen even more. When he took over the farm from an uncle, he walked the fields to tend his sheep. These days, it is hard to imagine hill farming without a quad bike.
To illustrate the enormous change that humans have wrought in a very short time, the ecologist Wes Jackson imagines compressing the time since higher life appeared on Earth, some 750 million years ago, into a single year.3 In this imaginary timeline, at ten to midnight on New Year's eve, agriculture is developed. And only in the last three seconds of the year, fossil fuel starts turbo-charging the changes Dick had alluded to. The date on Dick's barn (1667) is just shy of three seconds to the New Year in Jackson's timeline. And it no longer feels that distant.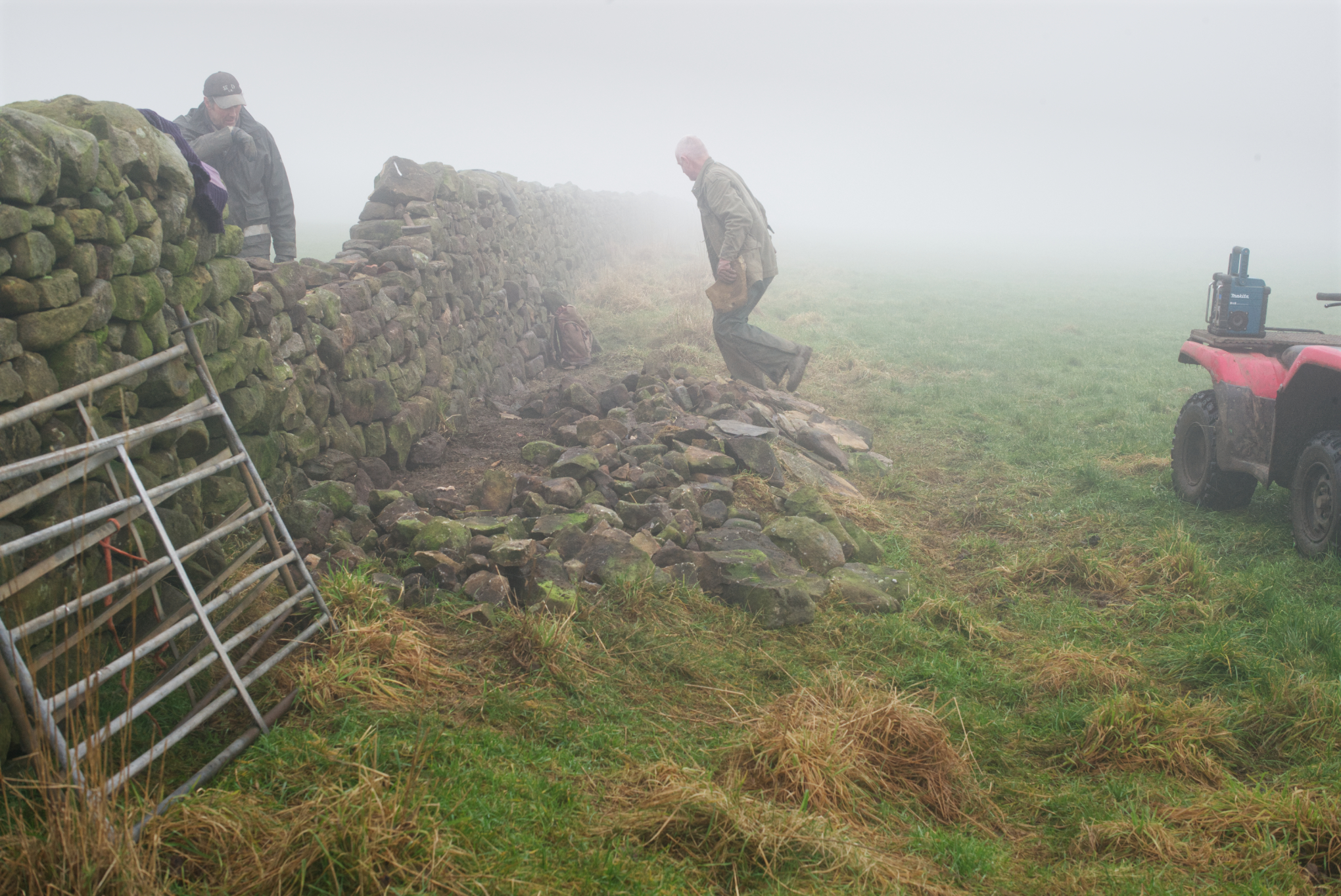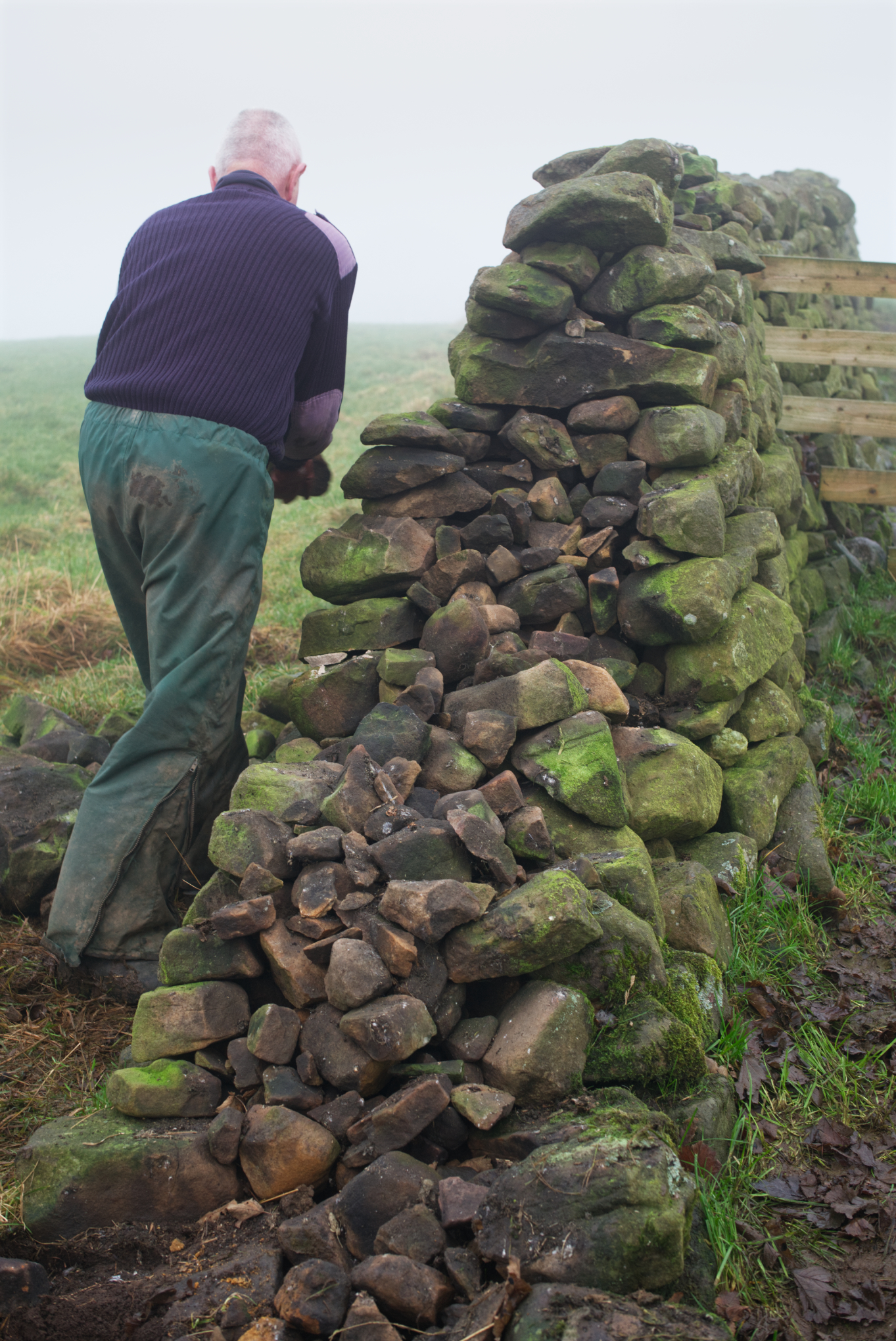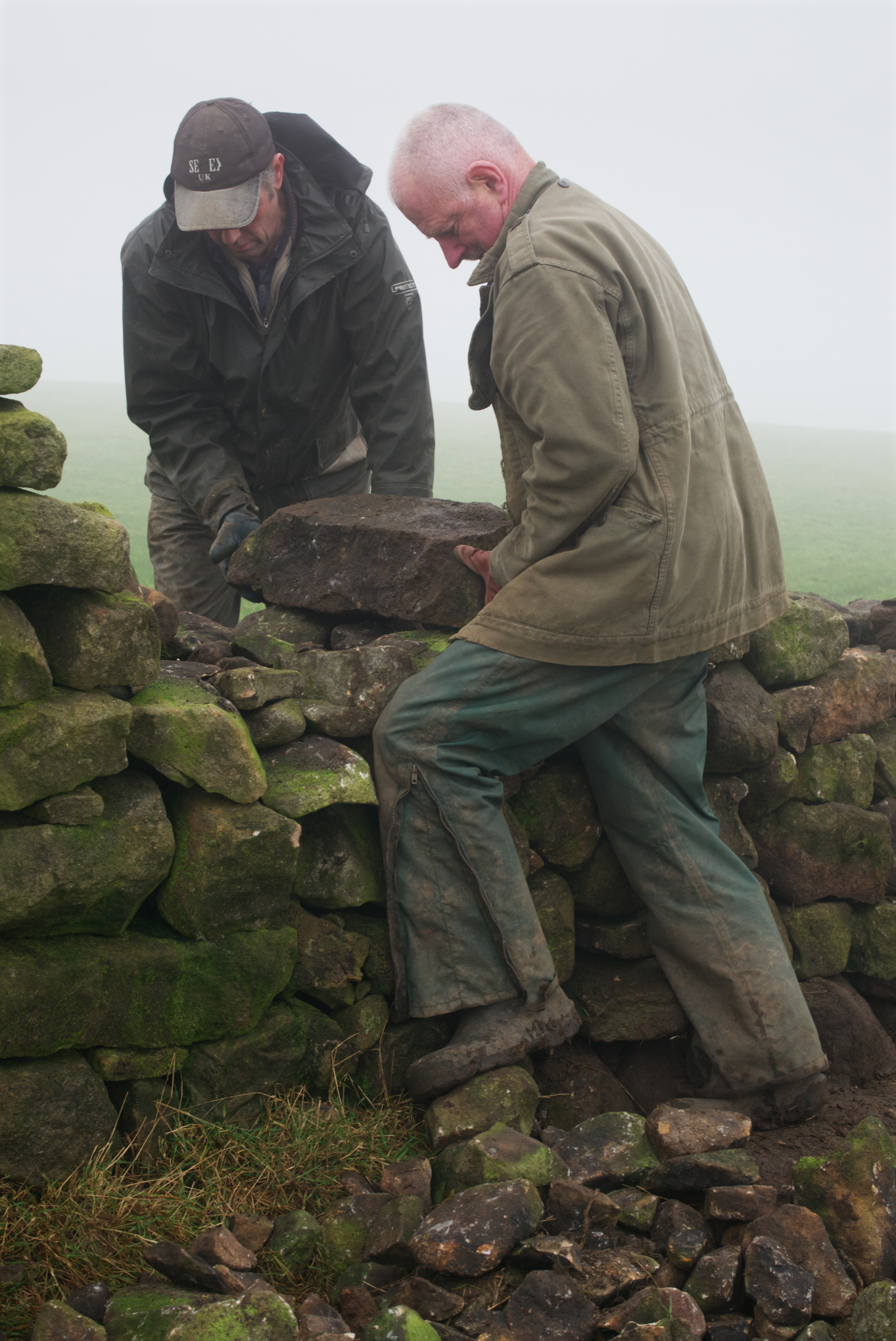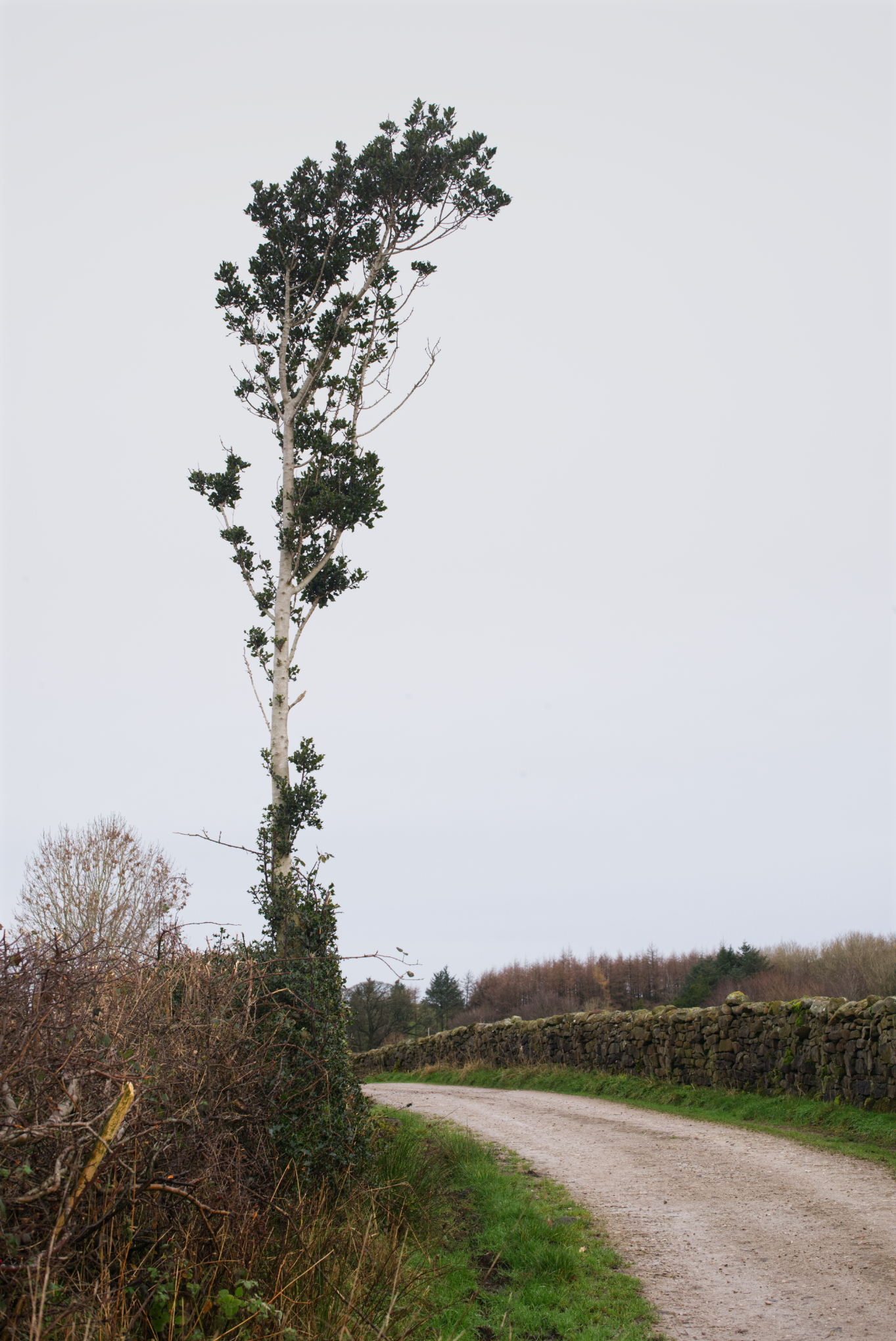 I met Ian Gifford in a field where he was unpicking a section of dry stone wall. As he took it apart, he explained its structure to me. It is capped by a ridge of topstones. Below that, two skins of close-fitting face stones form the sides and the gap between them is packed with small filling stones. About halfway down, at regular intervals along the wall's length, are long through stones that bridge between the faces. This all stands on a foundation of large footing stones, just below the ground surface.
Ian was preparing a length of damaged wall to be restored. It borders Andrew Dawson's farm and a week later, in a thick fog, they were rebuilding the wall. Each stone was selected for a good fit by sight and, once picked up, rarely swapped for another. As the wall grew in height, the stones they used got smaller and every course was set in slightly to make the wall taper to the top. This, along with the through stones they placed, ensures the wall's stability. All the while, the men's conversation shifted effortlessly from topic to topic – sometimes serious, sometimes lighthearted, always sincere.
Maybe dry stone walls offer a lesson in restraint. Some time later, I found Ian repairing one in another field. "You have to know when to stop," he said. Gesturing to uneven stones further along the wall, he remarked that it is always tempting to go just a little bit further. But there is the risk that taking out the next ill-fitting stone will just make more of the wall crumble. It reminds me of a passage from the Belgian author Dimitri Verhulst: "Humanity has built too much already. If this generation doesn't get started on the demolition, we'll be in serious trouble."4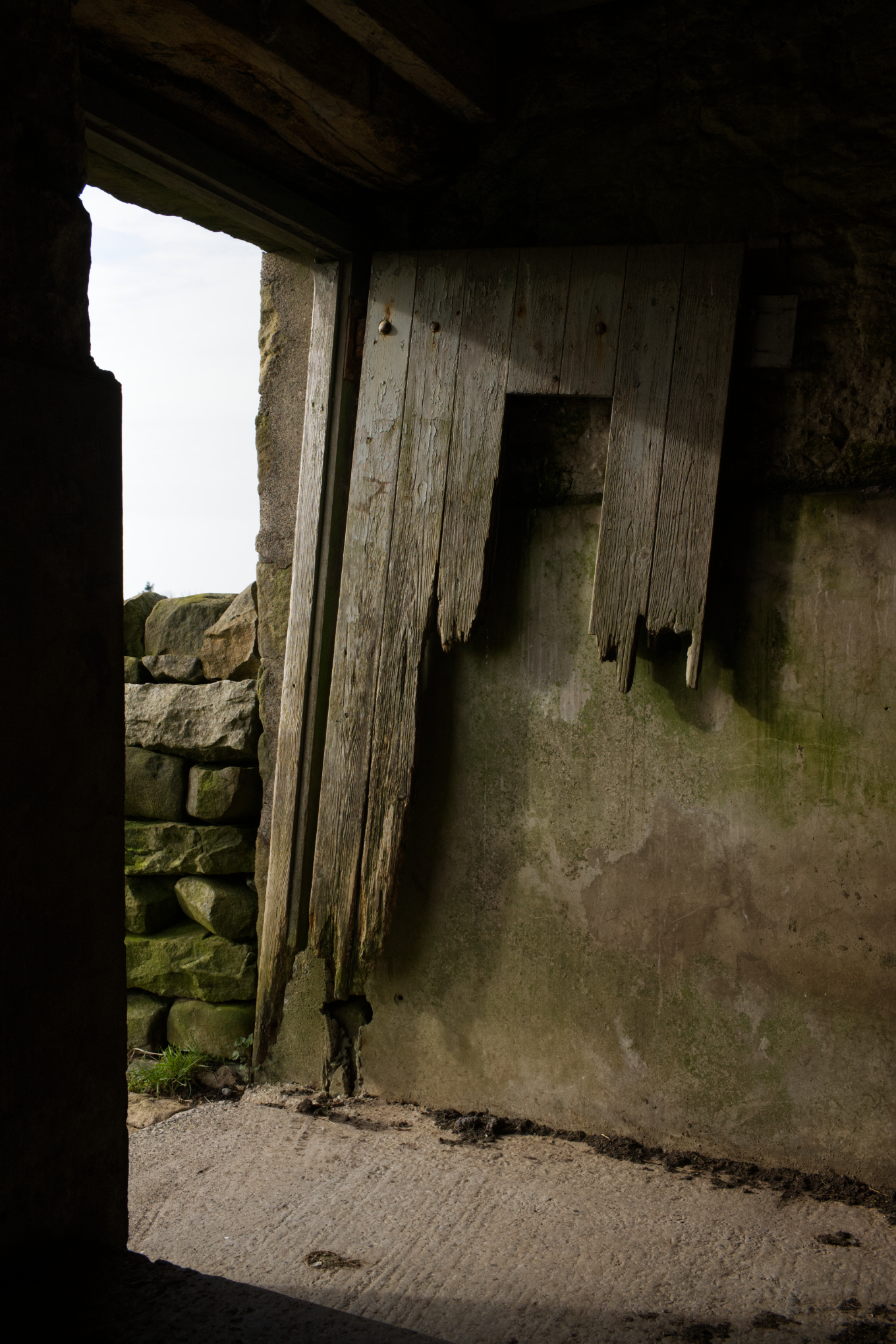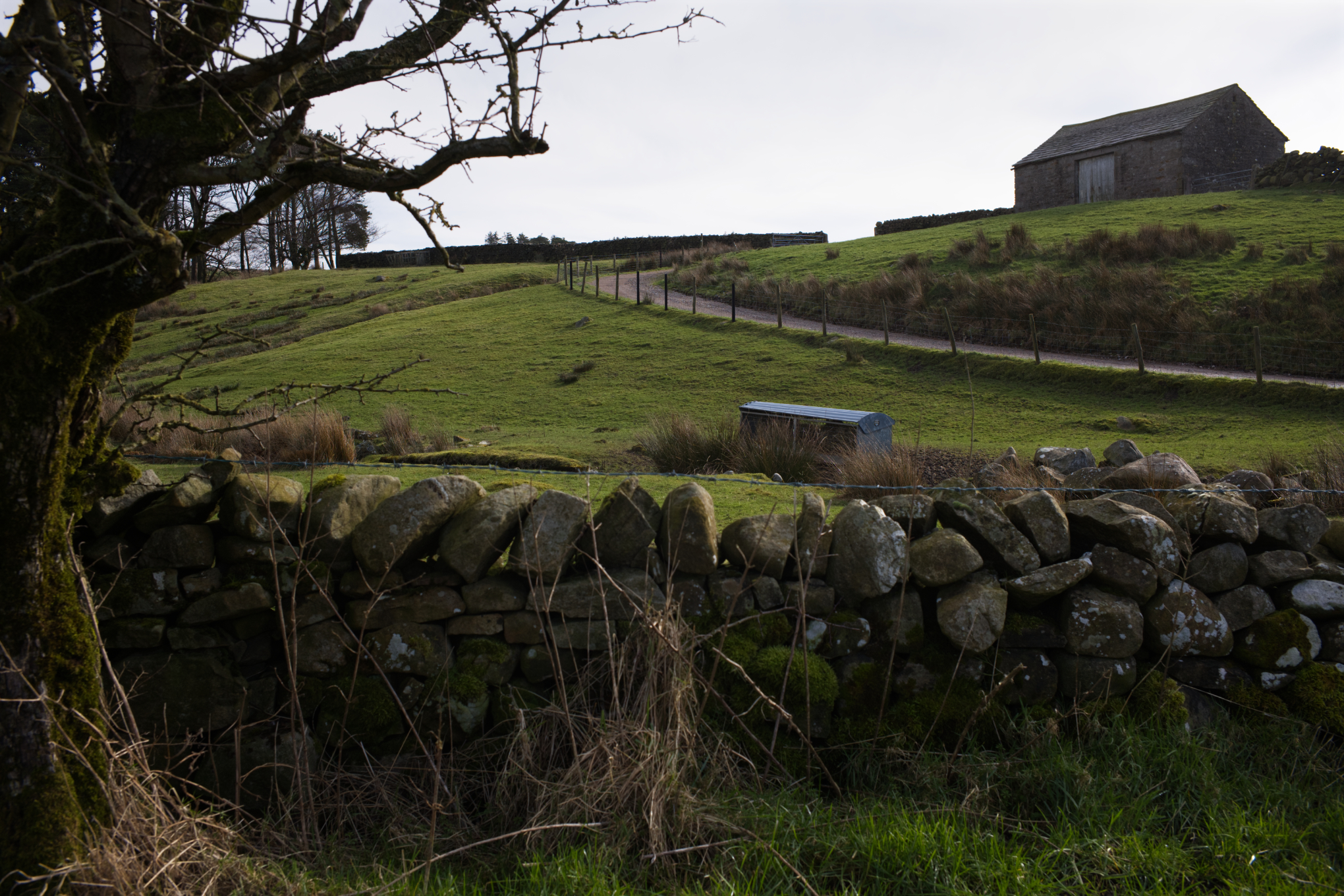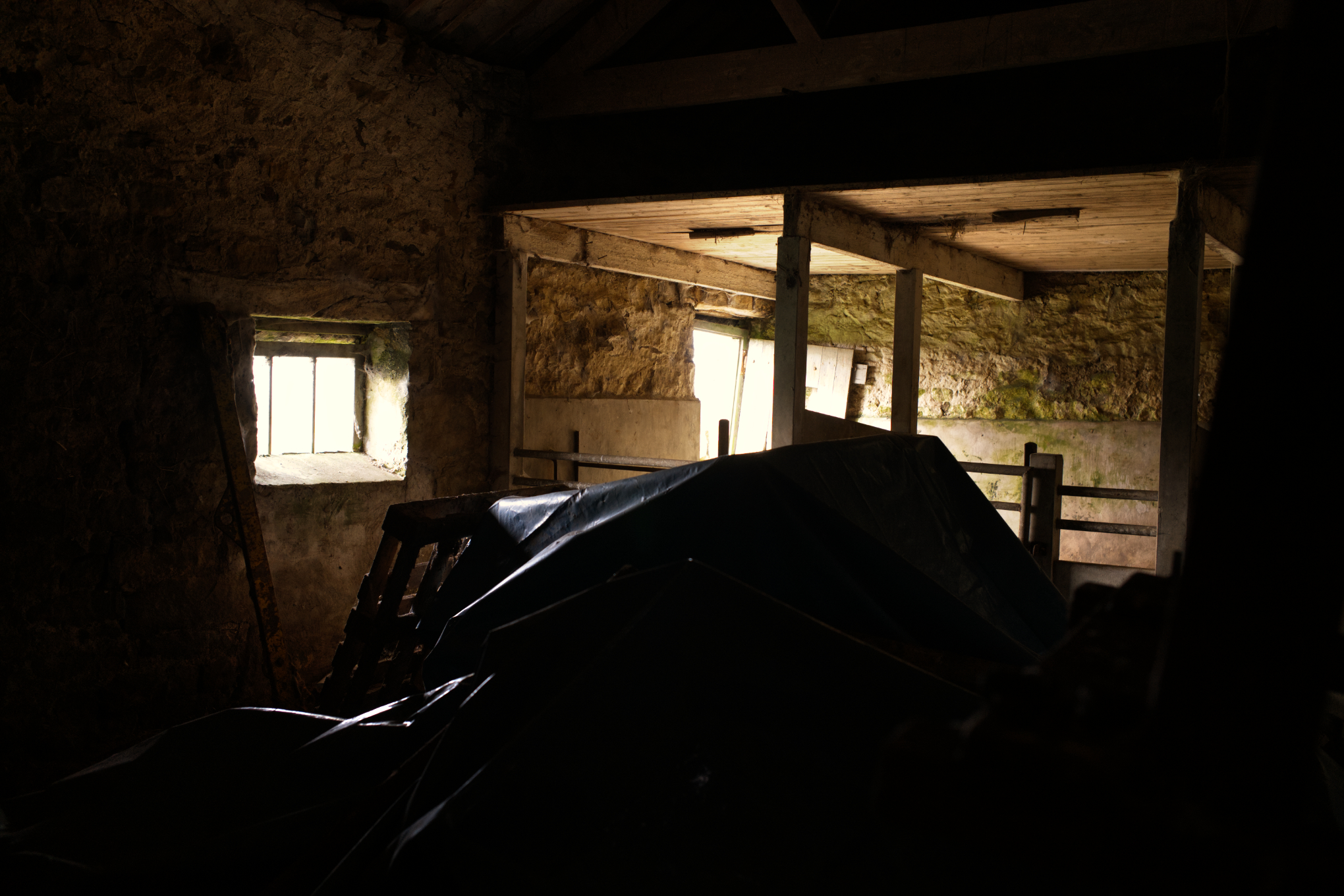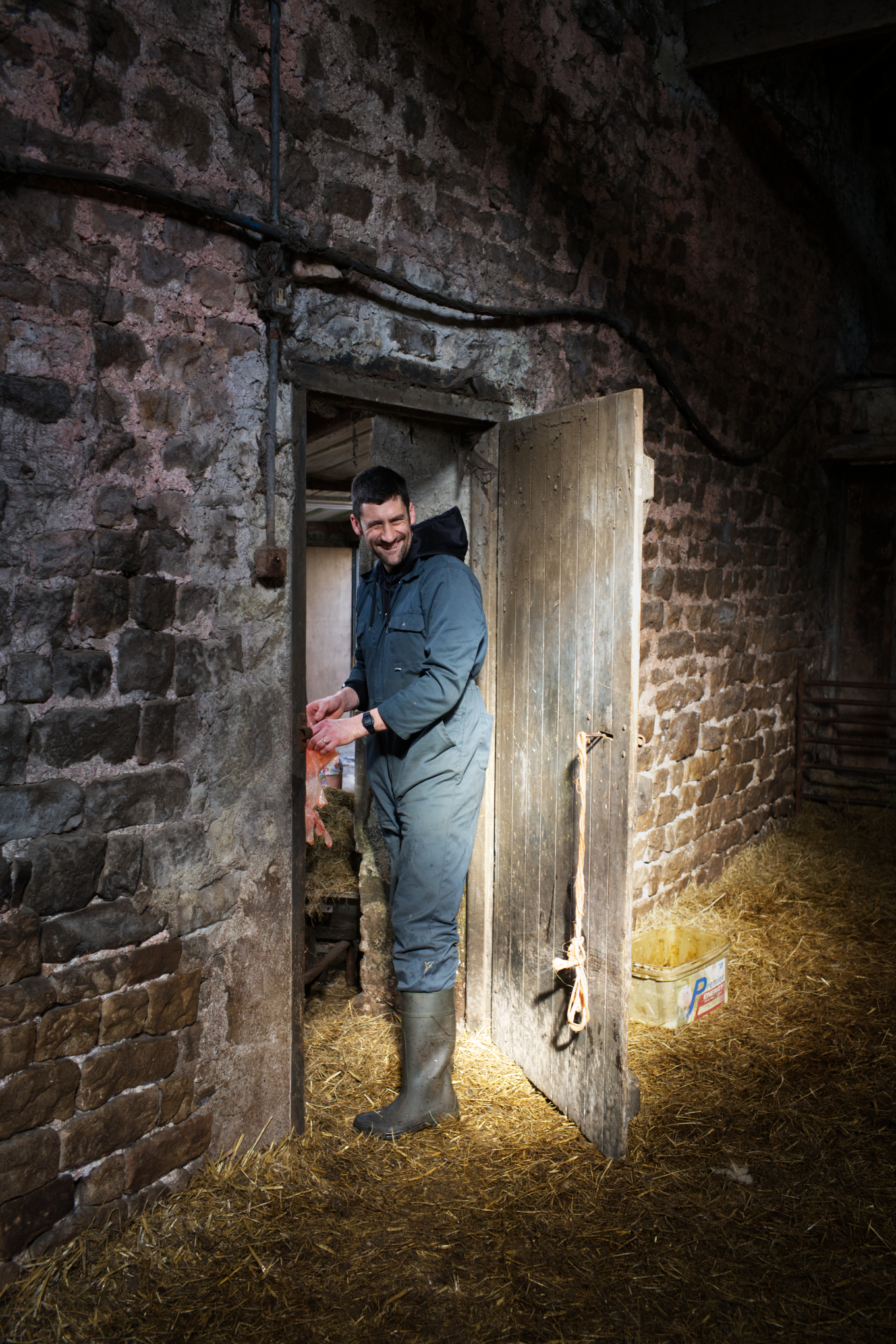 The barn dates from an era when it made sense to store hay in the fields where it was cut, rather than carting it back to the farmstead. Once a year, it would be loaded with hay, which would see the animals kept in it through winter. There used to be more field barns below Grit Fell, but because they are ill-suited to the larger scale now required of farming, most have disappeared or fallen into disrepair. Like most urbanites, I tend to idealise the slower pace and more moderate ambitions that such barns signify.
Due to its compact proportions and natural materials, the barn nestles comfortably in the land. Its form was dictated by pragmatism and this allowed me to deduce how it must have worked. The threshing floor is accessible through large doors through which freshly cut hay would have been carted in. The volume of this area allowed it to be prepared further in conditions that avoided losing the harvest to wet weather. The hay was then put in the loft, which kept it off the damp floor and maximised the building's storage capacity. Ventilation was ensured by slits in the gables. Six cows could be housed in the stalls under the loft and gravity helped when forking down their fodder. The longevity of the construction from only stone, lime, timber, and slate is also remarkable. Although it had been repaired with modern materials in a few places, the original shell remains essentially intact.
Reflecting on how the experience of place has changed during his career, geographer Edward Relph writes, "deeply focused and meaningful experience has been replaced by the outsideness of relatively fleeting and touristic encounters."5 This was brought home to me during a conversation with John Gorst – Dick's son – back at the farm. He reminded me that, early every morning, someone had to walk down the lane to tend the six cows kept in the barn. This involved letting them drink at the nearby stream, clearing the stalls, and filling their troughs with fodder. They also had to be milked (twice) and fed again. As a site of toil, the barn carries an entirely different meaning for him than it does for me.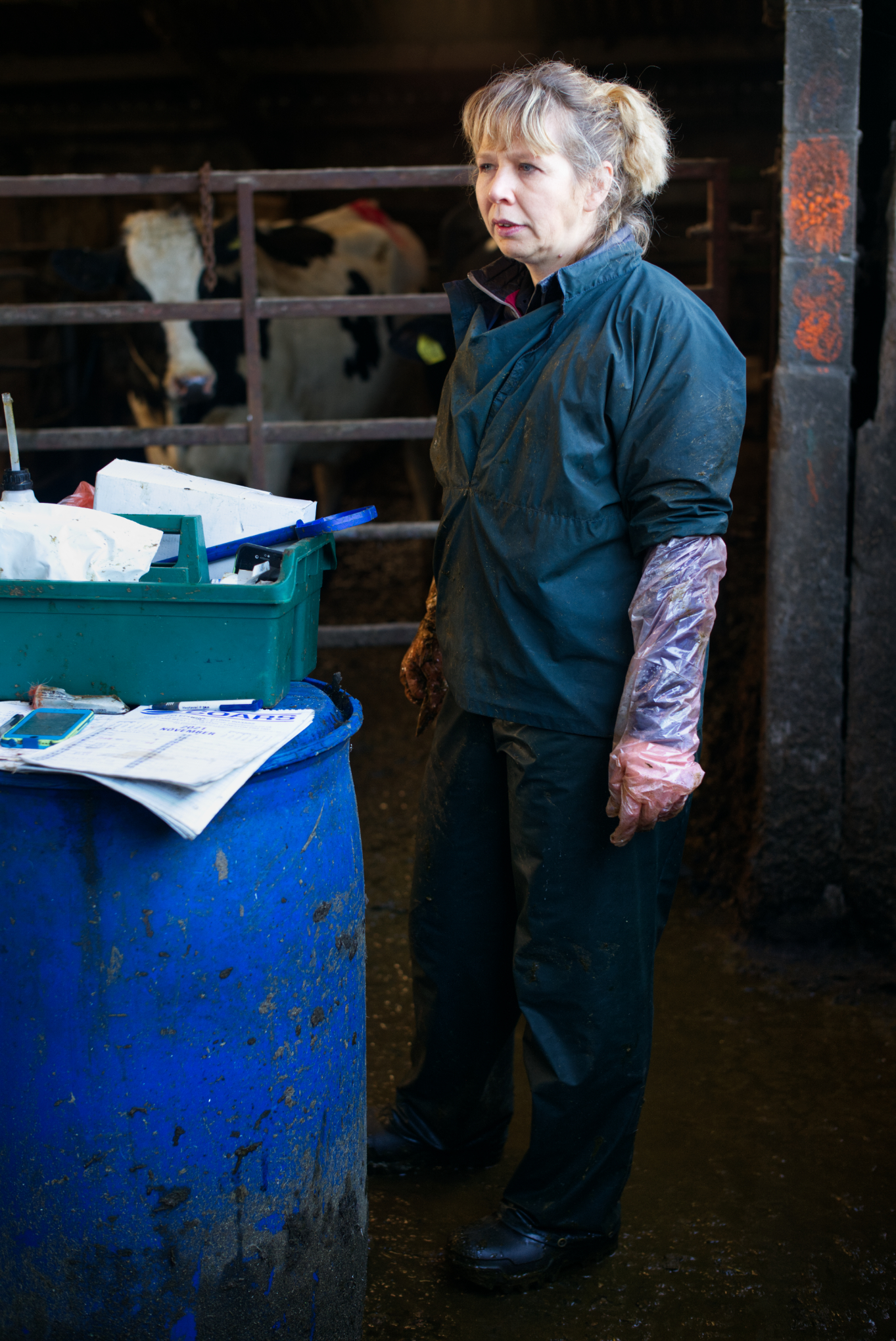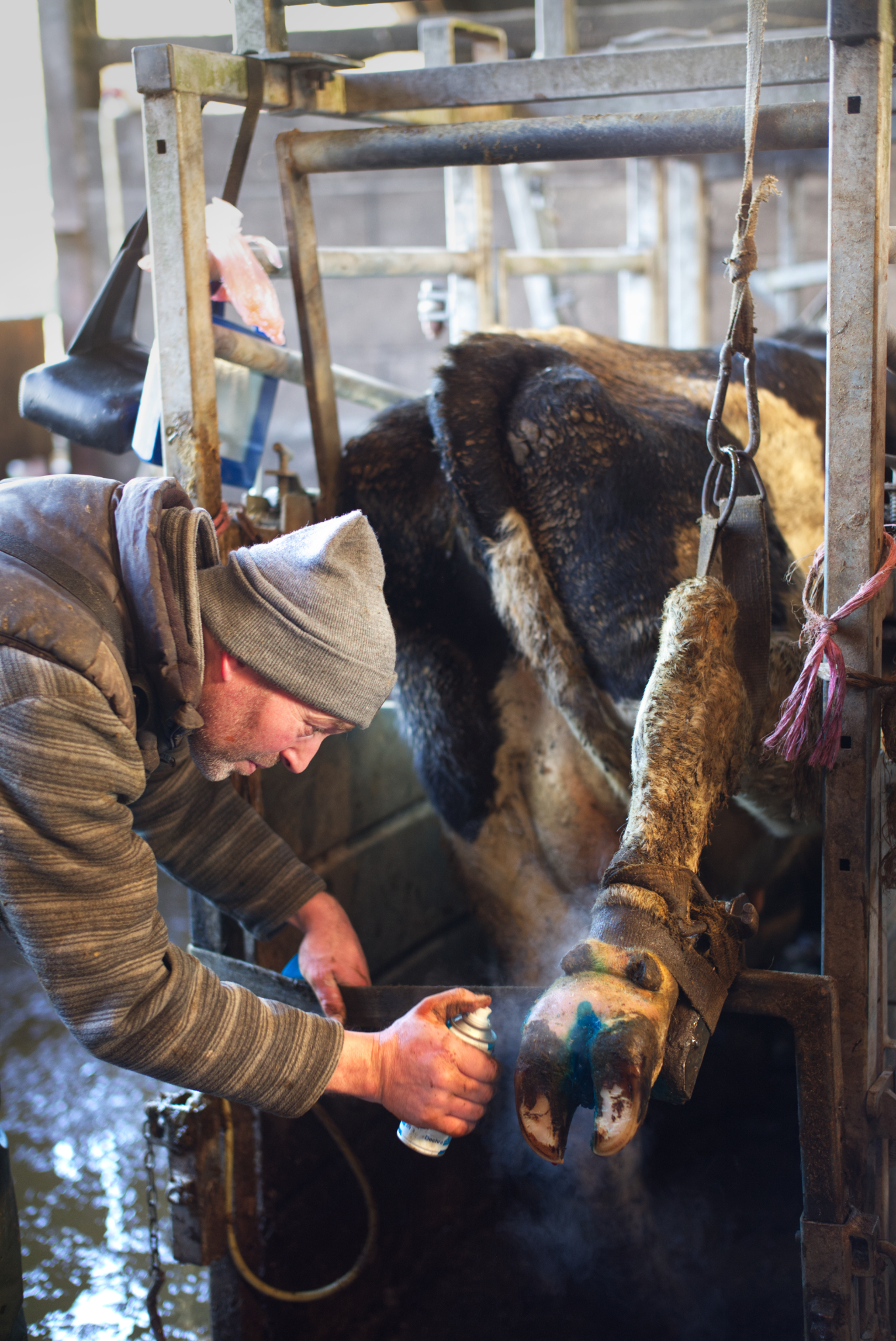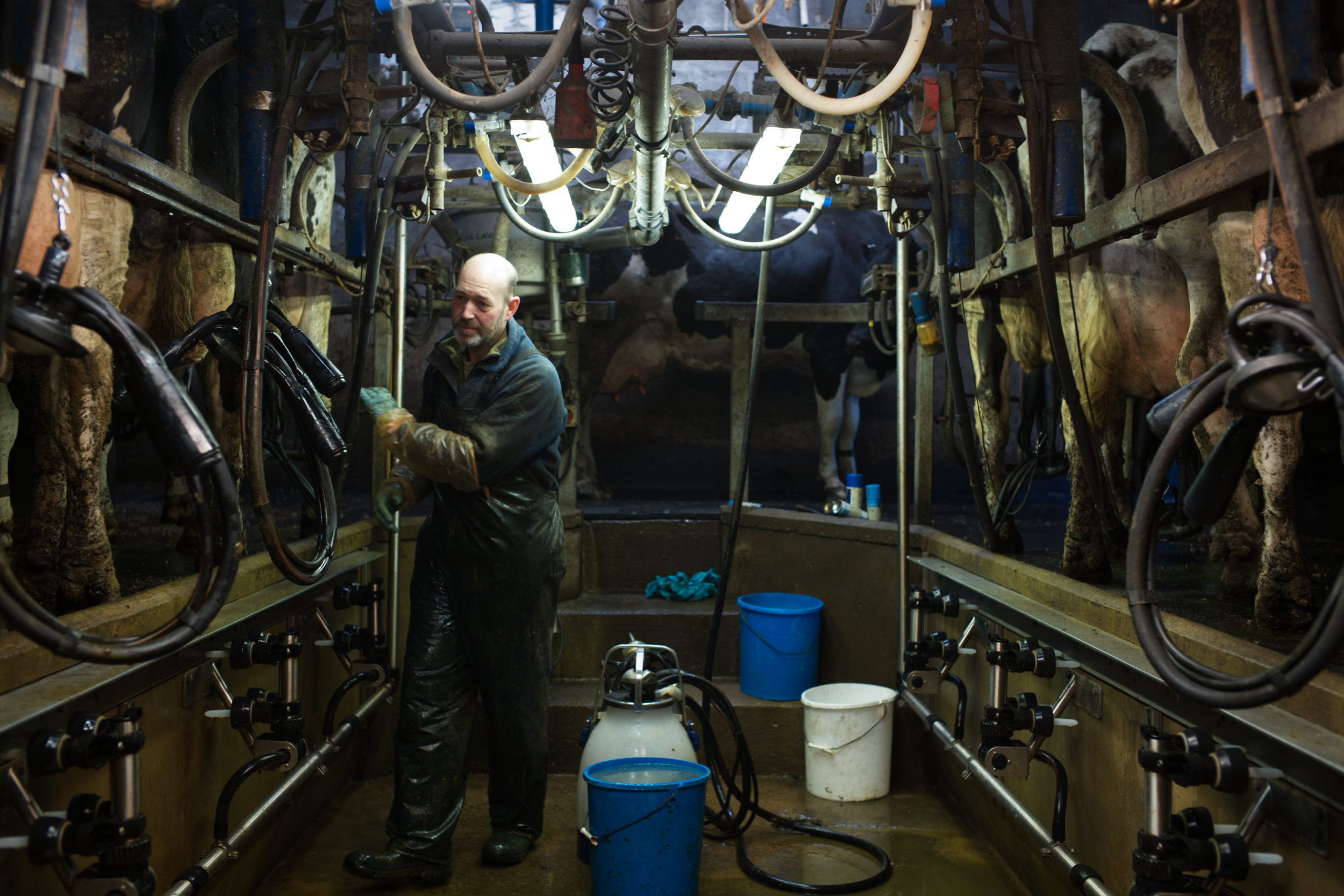 John Berger, who was an acute observer, writes: "With their parallel lives, animals offer man a companionship which is different from any offered by human exchanges. Different because it is a companionship offered to the loneliness of man as a species."6
As you approach Grit Fell travelling southeast from Lancaster, Andrew Metcalfe's farm is the last before the common land at the top. I was there one day when a policeman pulled up and called, "anyone missing a dog called Chester?" We were all puzzled: we hadn't seen the dog for a while, but how could he know its name? It doesn't wear a tag! It turned out the officer had reprimanded a bewildered walker on the main road for not having 'their' pet on a lead. Just then, Andrew's neighbour drove past and recognised the dog. It must have shadowed the walker as they came down the public footpath that passes the farm. Andrew's laugh boomed across the yard as he took delight in the animal's mischief.
Andrew's livelihood depends on animals. He keeps a herd of dairy cows, which he milks twice a day. During the monthly veterinarian visit, he urges each one on with "come on, sweetheart" as he nudges them on to be individually examined. During one of my visits, he was worried about the back hoof of one his Friesians. The vet found an abscess, which was drained and cleaned. She also gave the animal some anti-inflammatory drugs. This meant its milk could not enter the food chain for a number of days. Andrew keeps detailed records, which will flag up the animal when she is milked, but to make it obvious he also painted a big red cross on her udder as he said, "a soft bed of straw for you tonight."
In the essay quoted above, Berger remarks of every animal, "its lack of common language, its silence, guarantees its distinctness, its exclusion, from and of man." By being like and unlike humans, animals were historically seen both as intermediaries with the past and as a sources of sustenance. Berger goes on, "vestiges of this dualism remain among those who live intimately with, and depend upon, animals."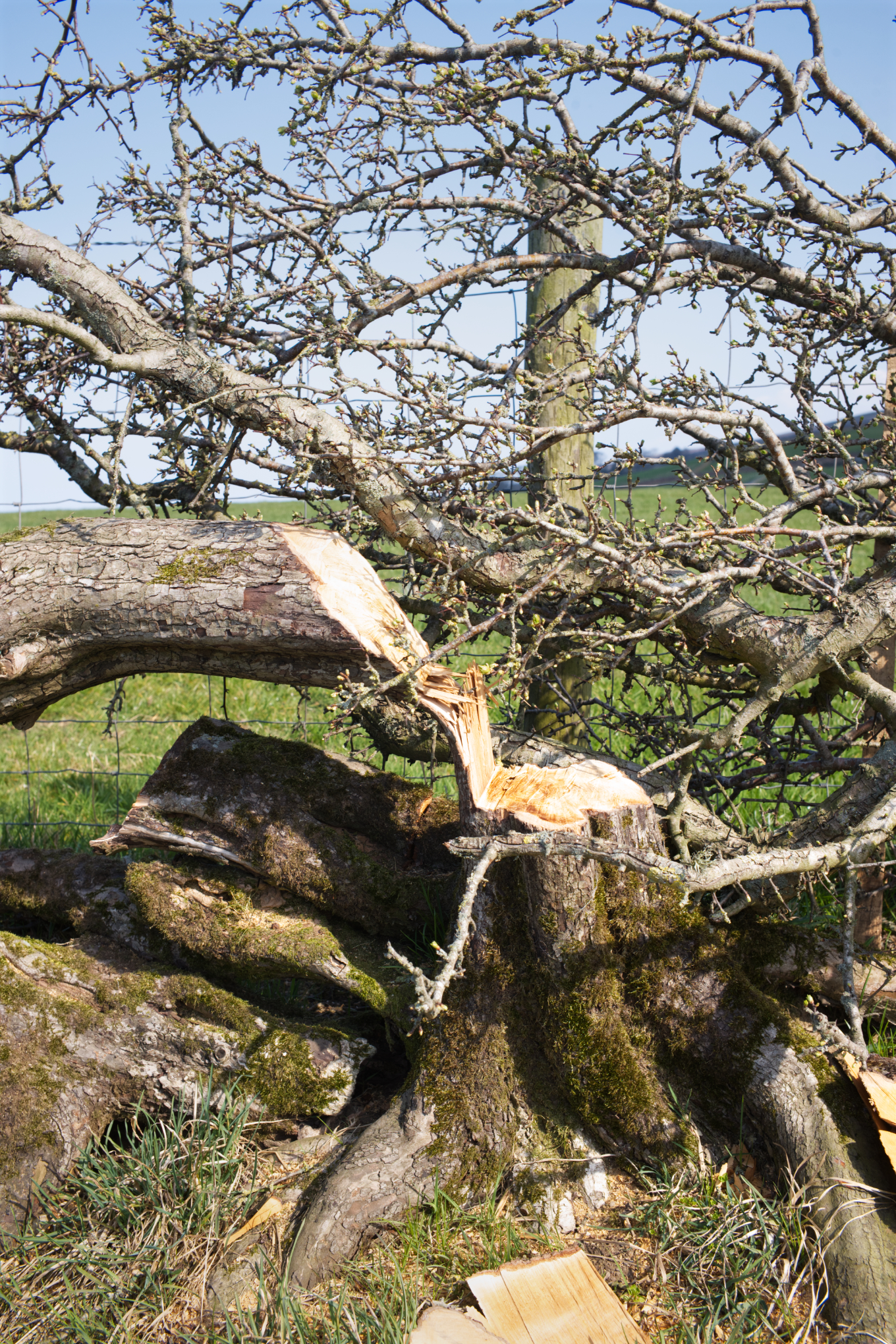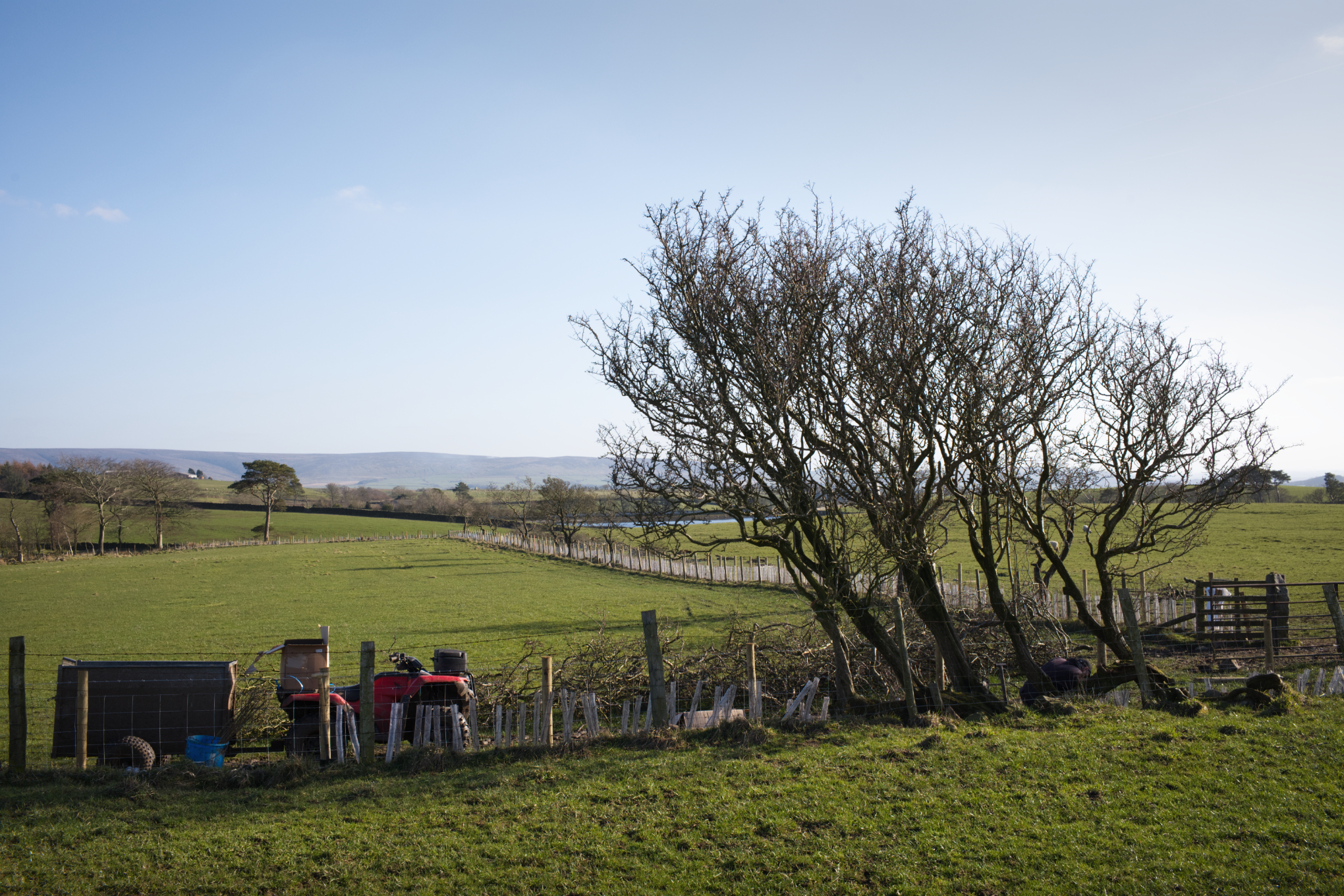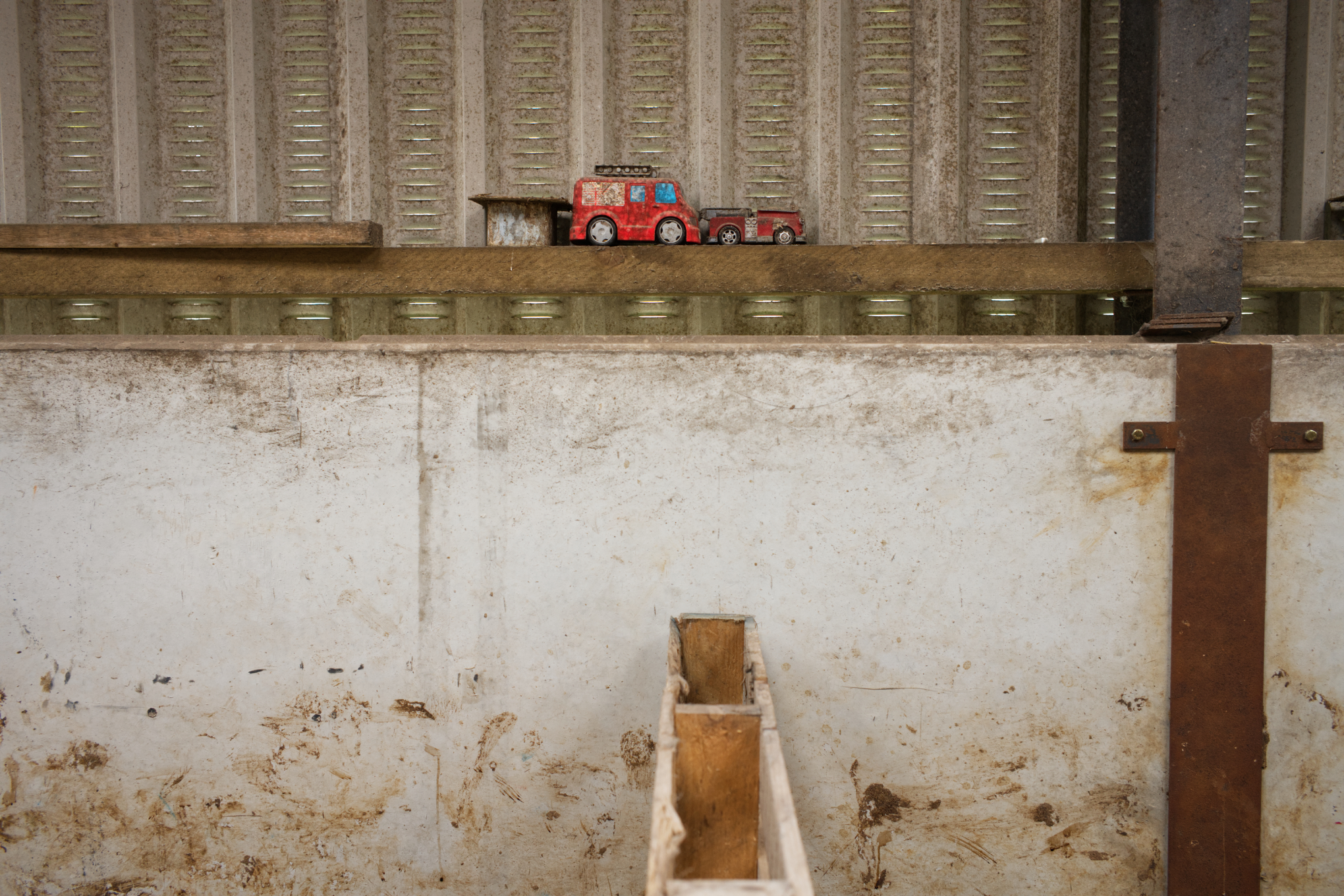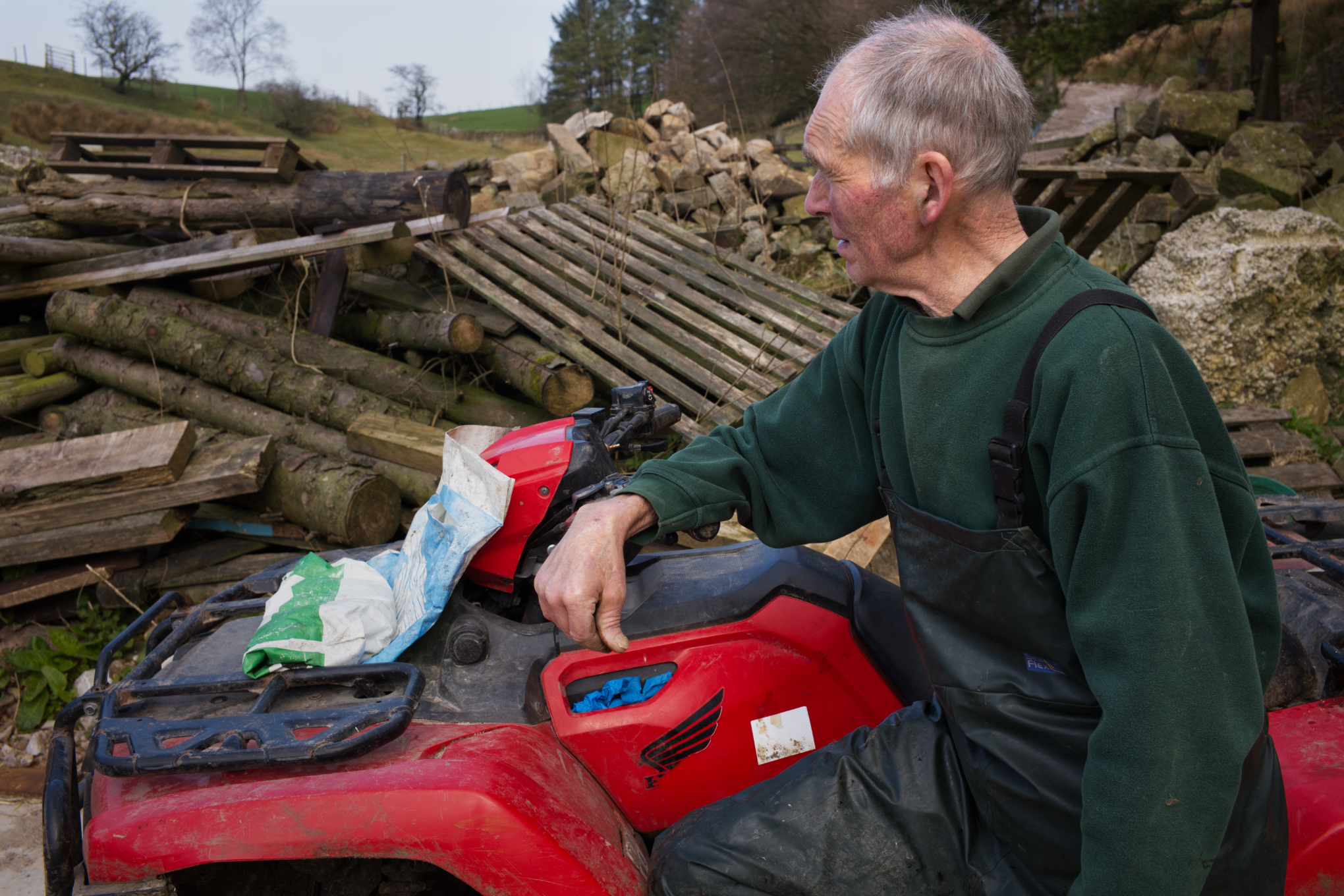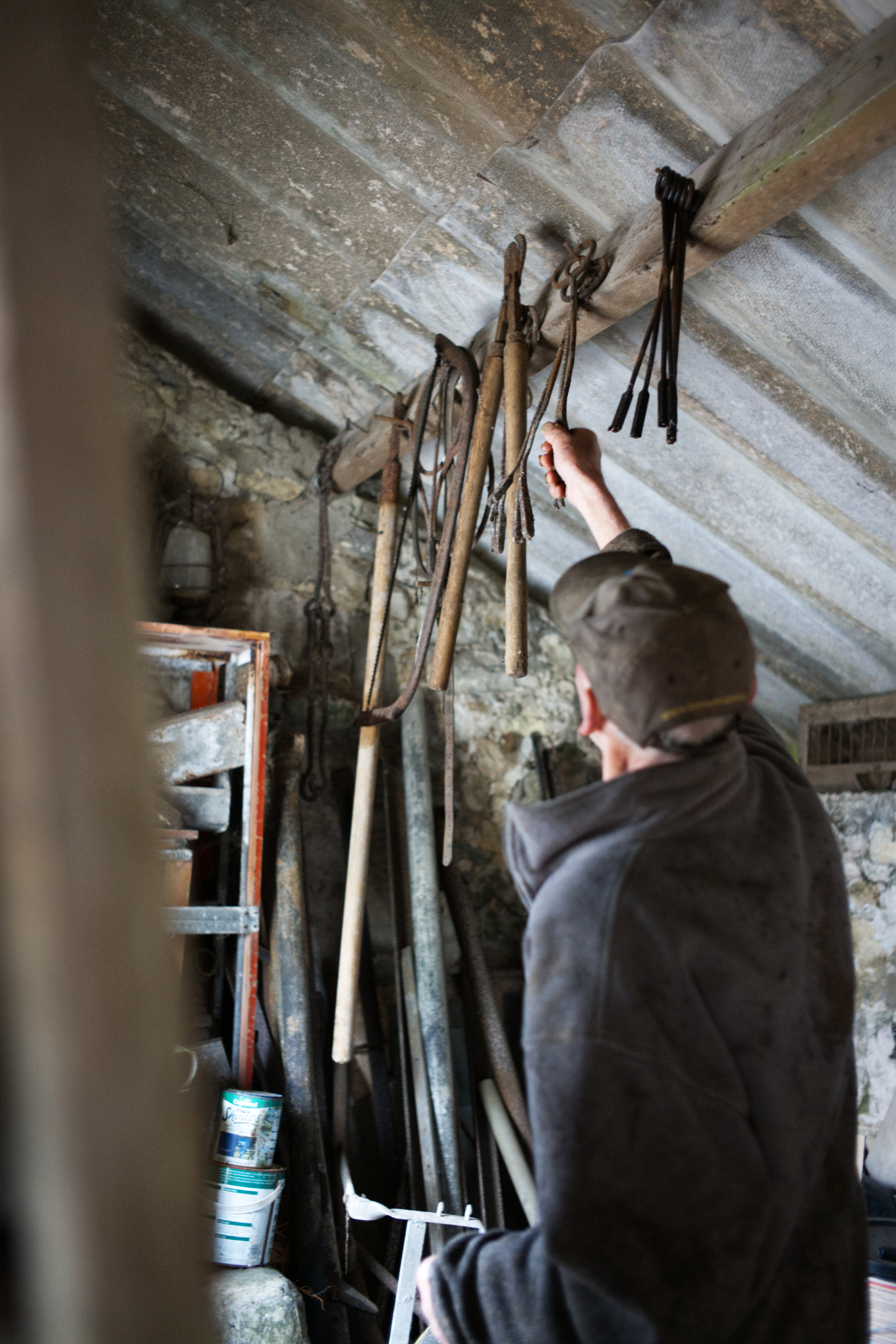 You can recognise remnants of old hedges by a horizontal kink in a tree's trunk just above the ground. At some point, it was laid – a procedure where its stem was partially cut and then bent close to the ground without severing it completely. This encourages new vertical shoots and, when a row of plants are laid, it produces a living barrier dense enough to prevent livestock from passing through.
One spring, I helped Andrew Metcalfe put in a new hedge. We planted saplings 200mm apart by making a slit in the ground with a spade, inserting the roots, and then closing the soil with the heel of a boot. When mature enough, the plants will be laid and the resulting hedge could live hundreds of years. In the meantime, it is protected from grazing animals by a temporary fence on both sides.
Another day, I was in a field with Andrew's father John. It is sheltered from the frigid wind that often blows off the fell by woodland. John recalled how he had planted those trees fifty years before. The tall conifers and hardwoods were small saplings just like the ones Andrew and I had put in the ground. "Fifty years," he shrugged as he shook his head in disbelief. Later that day, he unhooked some branding irons from a tool store rafter to show me. They are still used to mark their sheep's horns and carry his father's initials 'I.M.'
Every object suggests a story and it is tempting to try and photograph and describe them all. The Italian writer Italo Calvino warns – writing long before the advent of social media – that this leads to one of two outcomes.7 The first is living a life only to be photographed and the second is madness. I wonder if, instead of regretting the stories left untold, we should recognise their value? Is the appeal of the stories we do have not enhanced by the ones we do not? It seems to me that the value of stories are that they allow us to imagine how we might have acted (or would have liked to act) under a set of circumstances. And this is possible only because untold stories give us room to speculate.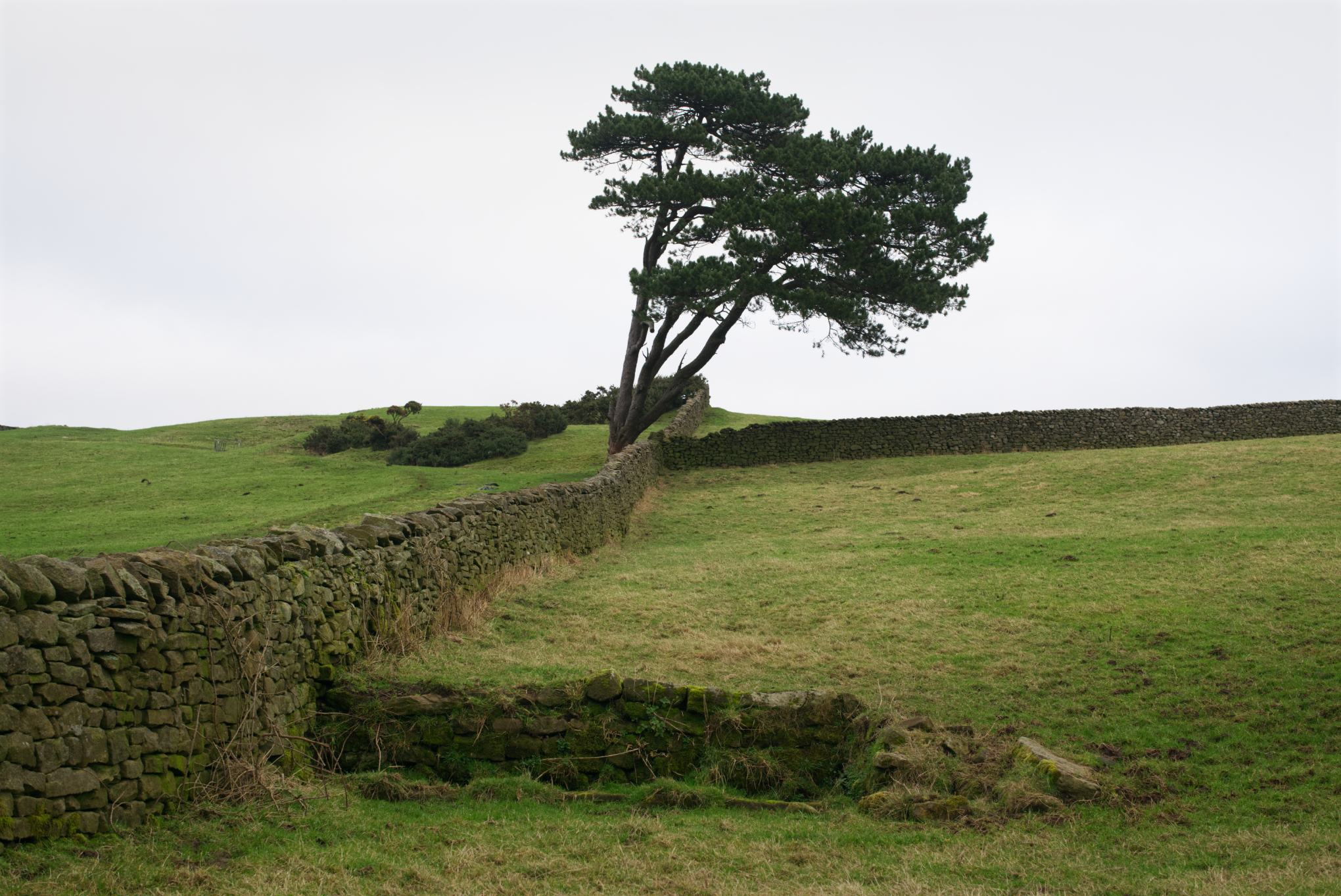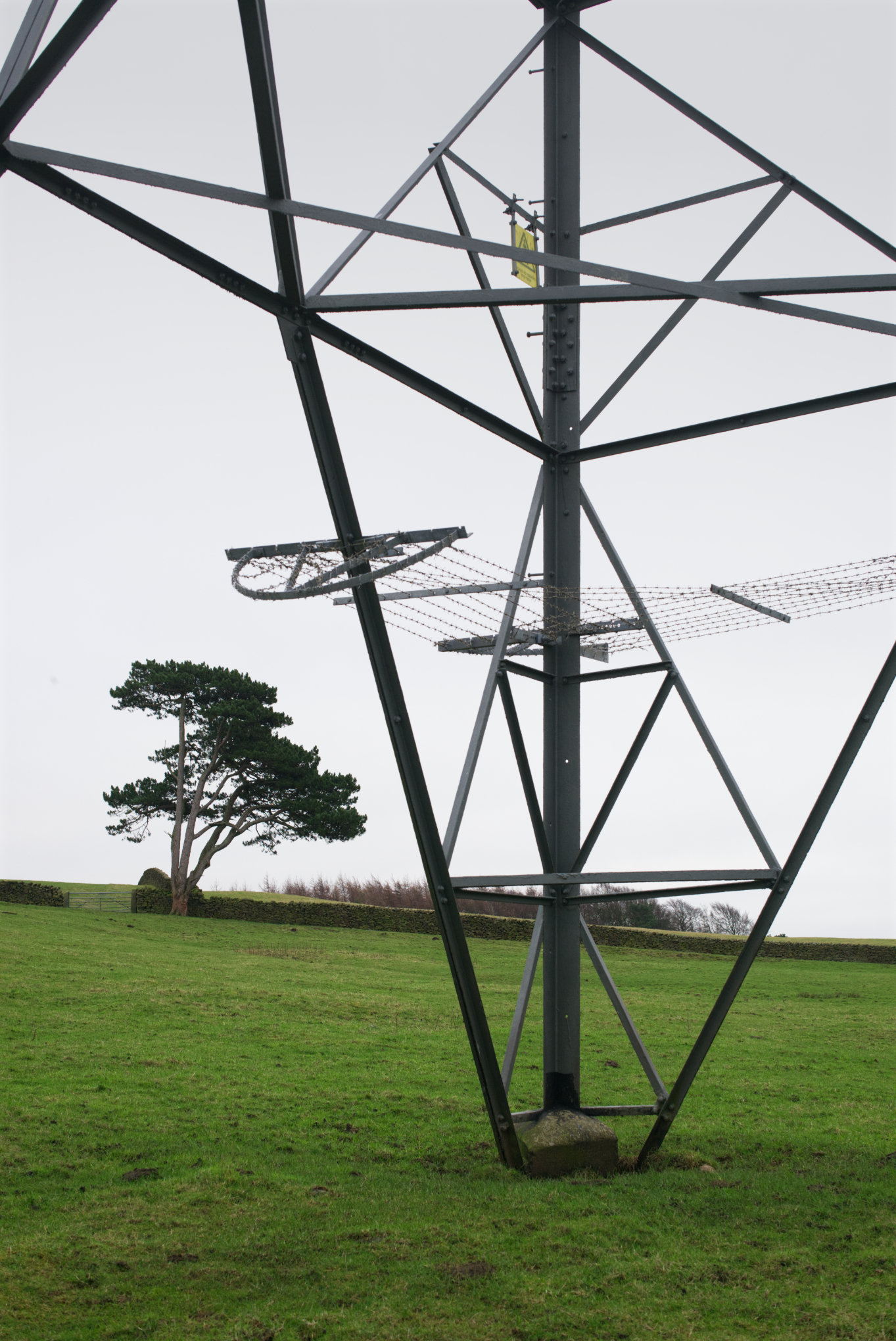 There is a solitary tree at the edge of a field just outside Lancaster. Its wind-flagged shape has made me walk up the hill toward it many times. I had tried to photograph it, but could not get close enough without trespassing. I even once knocked at a nearby house to ask if the field was theirs. The woman who answered spoke through a partially opened window. She was hard to hear, but I gathered the field was a different farmer's. She could not give me precise directions and, sensing her impatience, I decided not to push further.
Late one afternoon, on my way back down the hill again, I saw a farmer on a quad bike approaching. I impulsively raised my hand and when he stopped, I pointed to the field and asked if he knew whose it was. "It's mine," he said and suspiciously added, "why?" I explained my fascination with the tree and asked for permission to come back to photograph it. "That's fine," he said in a less guarded tone, "I'm surprised it's still standing with all the wind."
The next week, I returned to photograph the tree. According to a reference book, it is a black pine, a non-native species. I was fascinated by how it shared the field with an electricity pylon, a huge six-armed creature. While the pine had given way to and was sculpted by the climate, the pylon resisted it with cold efficiency. It made me wonder which was more alien in this landscape: a tree from the Mediterranean, whose form appeals to sentiment, or a structure borne of mathematical economy, whose form appeals to reason?
References
Bauman, Zygmunt. Liquid Times. Cambridge: Polity Press, 2007.
Tuan, Yi-Fu. "Time and place." In Space and Place. 1977. Minneapolis: Minnesota University Press, 2009.
Jackson, Wes. "The Earth in review: the rise, role, and fall of soil." In Nature as Measure. Berkeley: Counterpoint, 2011.
Verhulst, Dimitri. The Misfortunates. 2007. Translated by David Colmer. London: Portobello Books, 2013.
Relph, Edward. "Preface to reprint." In Place and Placelessness. 1976. London: Sage Publications Ltd, 2016.
Berger, John. "Why look at animals." In About Looking. 1980. London: Bloomsbury Publishing, 2009.
Calvino, Italo. "The adventure of a photographer," In Difficult Loves. 1957. Translated by William Weaver and Ann Goldstein. London: Vintage, 2018.